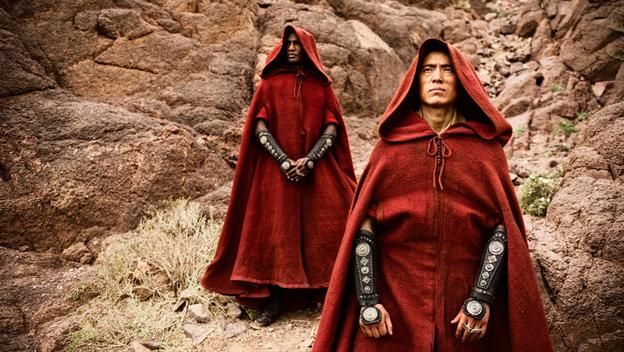 …Behold, an angel of the Lord appeared to him in a dream, saying, "Joseph, son of David, do not be afraid to take to you Mary your wife… (Matthew 1:20)
Some assignments are easier than others and some angels are busier than others. There was a popular Christian book written called Angels on Assignment. I am convinced that there are "angels on assignment" and there are angels for assignments. Joseph was visited three times by an angel that we have record of. If there was a cherub with the ultimate frequent flyer benefits, it was this angel. If there was a carpenter on a first name basis with a celestial messenger it was Joseph. The visitations began to add up, but where would Joseph and history be without them?
Christmas is about the turning point in human history, and this "touch" of an angel, was the turning point in the first Christmas. Joseph was in the dark; he didn't know what was going on. He didn't have all the facts, but in the midst of his confusion he trusted God and committed before he knew the details. Jesus' birth creates a predicament for a whole lot more folks than just Joseph.
Here's What Angels are Positioned to Pursue:
Angels Protect: They are like guardrails on Disneyland's monorail. They help to direct us (keeping us on track) and keep us from spinning or spiraling out of control. The result being that you escape danger and engage destiny (Luke 4:10).
Angels Prosper: They intercept would-be instances and occurrences that could injure us. They prevent the enemy's weapons from striking you. Angelic activity flourishes so no weapon formed against you will prosper (Matthew 4:11).
Angels Propel: These flaming ministers constantly propel us into God's purposes. They do this by giving you the assurance of God's presence and God's participation (Hebrews 1:7).
I sense this Christmas and New Year is about new assignments and new alignments.
These double "A's" will seem challenging, yet God has angels on command that are given a charge concerning you. When you bind yourself to the people God calls you to and to the purpose He has for you, you can bank on angelic intervention and assistance. This Christmas story reminds us how anchored you are when you step boldly into the Master's plan. The first time Joseph was visited by an angel, he was told to take Mary as his wife. The next time he is told by the angel to flee to Egypt to escape the wicked King Herod. Finally, the angel told him it was safe to return to Israel for Herod had died. Revelations are God's invitations to change.
Revelations are God's invitations to change.
First Encounter: Step into a Stigma
In the first encounter, the message of the angel to Joseph was to "step into a stigma" (Matthew 1:20). "Your fiancée will be impregnated and carry the Messiah and all before your wedding date." Can you imagine? Was the angel going to tell Joseph's family? So many supernatural exploits and fruitfulness are lost because some are afraid to step into a stigma. There are times when, like Joseph, dignity with people is on one side of the room and devotedness to God is on the other. When you step into (God-sent) stigmas, it causes God to manifest the mystery of what He's been at work on for you behind the scenes. Hosea declares that "the spiritual man is insane" (Hosea 9:7). God wants you to step into a life that's beyond belief this season. Author Leonard Sweet says "Christian spirituality is anything but sane if 'sane' means logical, predictable, or safe." The world of faith is freakish and unpredictable; man's insanity is often heaven's sense.
Man's insanity is often heaven's sense.
Second Encounter: Save the Saviour
In the second encounter, the message of the angel to Joseph was to "save the Saviour" (Matthew 2:12-13). How ironic it is to keep something that will ultimately keep you, and to war for something that wars on your behalf. We're told "to contend earnestly for the faith." This requires us to move from the fringes and into the fullness. Martin Luther and all of the great church reformers embodied this truth. They picked up (established) a revelation that picked up (elevated) the generations. Two things that Joseph couldn't afford to get into were passivity and procrastination, either of which would have been hazardous. We must remove thoughts and spiritual influences that seek to assassinate the Anointed One in our hearts. The operative word for this season is contend. There are special spoils attached to the victories we pursue and press into. History clarifies that it wasn't Jesus that needed saving, but at the time, vulnerability appeared conceivable. This is the season to establish a citadel of "certainties," especially consecrating Jesus as Lord of your ways.
Third Encounter: Flip the Script
In the third encounter, the message of the angel to Joseph was that God will "flip the script" (Matthew 2:19). Wicked King Herod, who practically slaughtered a generation of infant boys while trying to take out Emmanuel, was now himself taken out. God's signature move in dealing with humanity always involves this dynamic. He reverses the threat on that which threatens His people. Joseph had to be patient and wait. And as he did, the Christmas story became completed. Jesus the Nazarene came out of Galilee (which is where the prophecies said Jesus would arise). Interestingly, scholars tell us that, Nazareth was "a town in touch with the modern life and world events of the day." Two major roads of the world passed within the eyesight of the hills of Nazareth. Jesus had the opportunity to observe and study the nature and dealings of all kinds of people. As a child, how often His heart must have ached and wept over a world lost and hopeless. This holiday script can be flipped from just being about us to a harvest needing to be reaped. No doubt we should enjoy family, friends, and loved ones, but the present (we're celebrating Jesus' birthday) Christ is after the most should capture our hearts as well – the hopeless, the hurting, and the disenfranchised. Fear not! Be encouraged in your undertakings in this great season of opportunity!
Our warms prayers and hearts are with you these Holidays and New Year. May God prosper and protect you and yours into greater blessings and fruitfulness.
Comments
comments